5 Reasons Why You Should Be Using Bamboo Cutting Boards in Your Kitchen (You'll Get Shocked at Reason #4!) 
Love to host dinner for friends or cook tantalizing, healthy, homemade meals for your family? 
The fun of serving delicious culinary creations always starts with all the essential "dirty" work — chopping, dicing, slicing, cutting, crushing, or prepping your meats or vegetables on your cutting board. 
And if you're a mom, dad, baker, or restauranteur who wants your meal preparations to be hygienic, Earth-friendly & chemical-free, here are 5 reasons why you should #maketheswitch to Greener Chef's bamboo cutting boards!
Keep reading if you'd like the meals you serve your loved ones to be the safest, bestest ever! 
1
Bamboo is 100% free from toxic elements that can get you sick 
Plasticware may contain harmful substances like Phthalates, BPA, BPS, or BPF. 
These can get into your foods. And when your body absorbs these chemicals, it can cause cell damage, cancer, diabetes, reproductive, neurological & even fertility issues. 
Unlike plastic, you're confident that bamboo chopping boards do not contain any of these unsafe compounds. 
You can use bamboo if you're not interested in ingesting microplastics or if you'd like to discount yourself from serious illnesses you're likely to get from using plastics in your kitchen.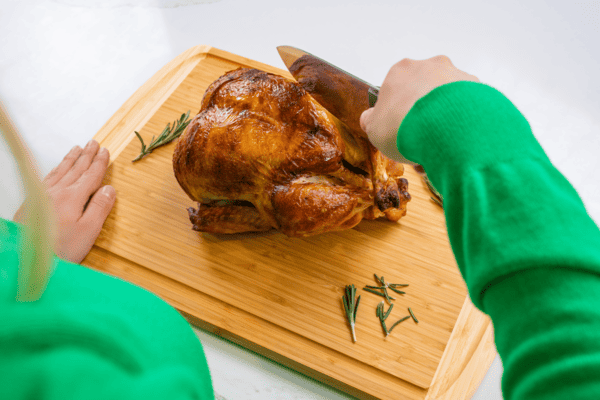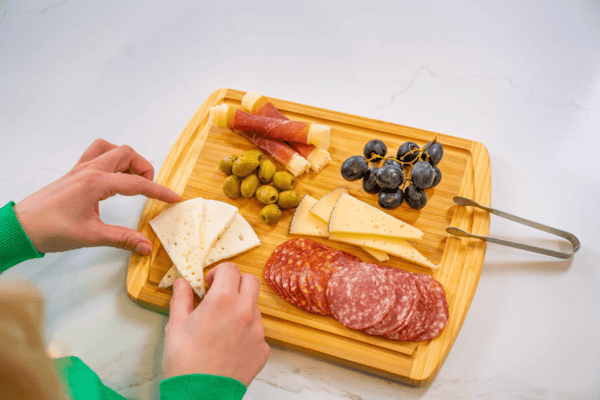 2
Yucky bacteria & unwanted molds are not welcome on your bamboo cutting boards 
Did you know that each time you use a plastic board, your knife leaves tiny cuts? 
These cuts or scratches can be deep enough to store dust, dirt, or, worst, moisture — a perfect ingredient for growing germs. 
And even if you give your board a hot bath, you're unsure if it has killed all the unwanted organisms. 
Lucky for you, this won't happen in your bamboo cutting boards because bamboo has a natural antibacterial & antifungal property called "bamboo kun." 
This eliminates the bacteria & stops them from reproducing or growing. What's more, you'll love that bamboo isn't porous. Once you wash it thoroughly, no food bits or annoying smell will remain on the grain!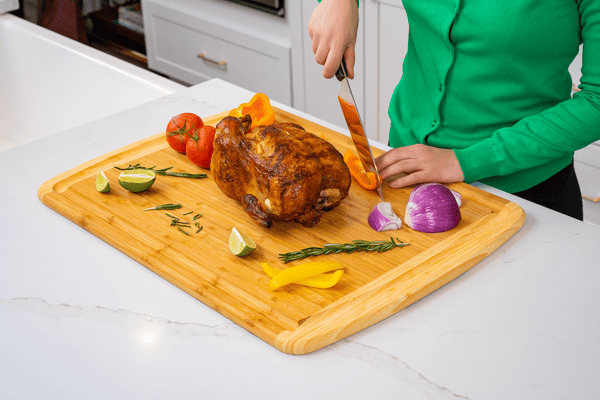 3
Bamboo lets you help protect the Earth & keep it livable, one goodie at a time. 
Bamboo is the greenest option you have. Not plastic. Not other woods. 
It absorbs carbon dioxide – the gas that makes our world feel hotter & warmer– quickly  & stores it in its culms for years. 
What's more, it uses less water & grows lightning fast – it can grow an additional 39 inches in 24 hours. 
And unlike other trees that take decades to mature, bamboo can get replenished in a few days or years. The best part? It doesn't have to use fertilizer, pesticide, or herbicide to thrive. From start to end, you're assured that it's 100% chemical free. 
Looking for kitchenware that's biodegradable, sustainable & best for our environment? There's definitely nothing like bamboo!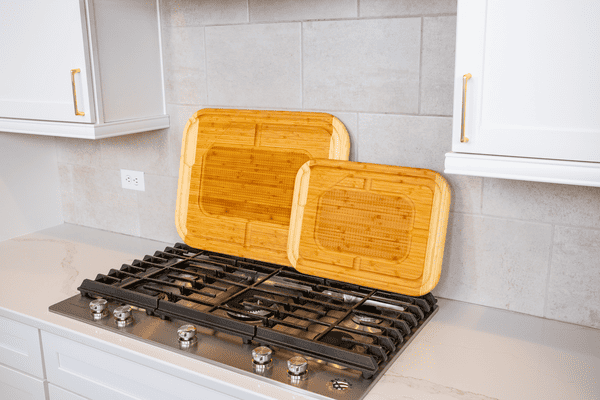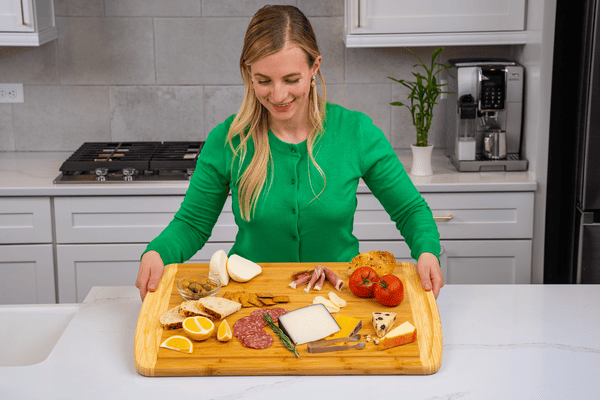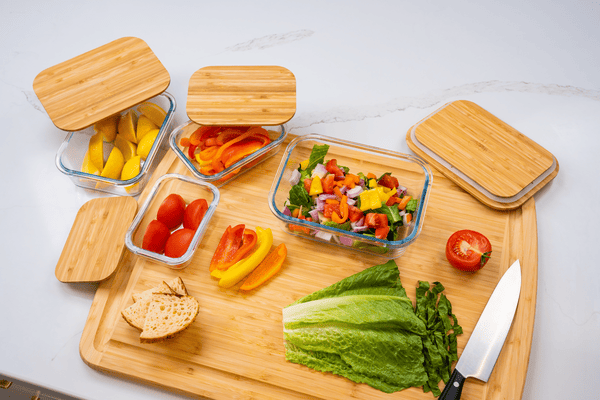 4
 Takes care of your knives & saves them from immediately getting blunt or dull 
Frequent slicing, chopping, cutting or carving will eventually wear down your precious knife's blade. Even more so, using glass, granite, marble, ceramic, or any hard surface weakens your knife's edge. 
Preserve your sharp, expensive knives by skipping the ceramic dinner plate, marble cheese board, or granite countertop. And consider using an alternative such as bamboo cutting boards. Its surface is less hard & designed to keep your knives in their best condition for a longer time!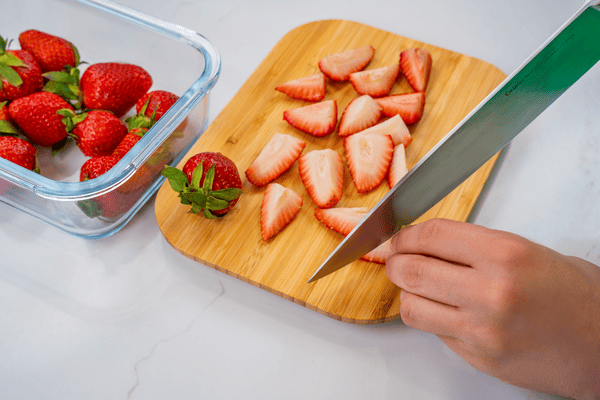 5
 Made for ALL your cooking preps, kitchen activities & parties! 
Got a small kitchen, yet you need to have more workspace? 
Need to roll your dough, serve your cheese, food, or drinks? 
Looking for a stove cover or additional serving spots for parties?  
Whether you want to cut lots of vegetables & meats, carve your turkey (& secure all the juices, so they don't spill or make a mess on your dining table), display your tacos, protect your quartz or pricey counter from stains or damage, cover your gas burners, increase your buffet area or extend your tabletop when hosting friends, Greener Chef's cutting boards are here for you. 
Designed for faster cleanups & more convenient food preps, Greener Chef's multifunctional, beautiful boards are here to give you a hand on cooking your best meals yet & give your guests the most memorable entertainment possible! 
Reviews & Testimonials 
Knife-friendly, it won't dull your knives, perfect grooves on the side, so less mess, perfect for prepping multiple items at once
Super large; you're going to love it in your kitchen!
Just as natural & toxin-free as the fresh whole food you chop up & eat of it.
Explore Our Bestsellers
Regular price

$49.99 USD

Sale price

$39.99 USD

Unit price

per

Regular price

$149.99 USD

Sale price

$89.99 USD

Unit price

per

Regular price

$39.99 USD

Sale price

$25.99 USD

Unit price

per
 The Greener Chef Promise

Easy returns
Lifetime replacements

30-Day Money Back Guarantee
100% Bamboo

Antibacterial & Antifungal
Easy to Clean

Knife-Friendly
Durable

Attractive
Affordable